Sales Consultancy - Top Question from Google
What do sales consultants do?
Here's the short answer:
We are professional sales consultants specializing in helping B2B companies by improving their sales performance and achieving their sales goals. We work with a wide range of clients, including SMEs, Mid-Market and Enterprise accounts.
Our sales consultants look at your business as a whole and typically work with clients to identify areas for improvement in sales strategy, sales performance and sales process.  Whilst many companies come to us for sales training, we have learned that in some cases training is the wrong place to start.  
Therefore, we only provide training that we know will be impactful and aligned with the companies overall sales objectives.  
Sales consultants may also work with clients to develop marketing and sales materials, such as brochures, presentations, and proposals, and they may provide guidance on sales techniques and best practices.
Our goal as sales consultants is not just to increase sales, but to do so in a way that is scalable and profitable.  Furthermore we love to leave a legacy after us in terms of an improved culture and continuous improvement in sales performance. 
We do this by providing expertise and guidance on a wide range of sales and marketing-related topics, and by working with clients and their sales teams to develop and implement effective growth strategies.
In this article we will cover...
There's a new way to deliver sales growth…
1. Why is sales consulting important
No CEO or Sales Director can be an expert in everything. A proven sales consultant who is external to the business can bring different skills, experiences and perspective to your business. The reality is that there is nothing that we bring that any CEO or VP of Sales could do themselves. What we bring is speed – our teams knowledge and skills will fast forward your business quicker that you can do working on your own. In addition to speed our team brings:
Our consultants bring expertise and experience in sales and marketing to our clients. They can provide valuable insights and guidance on a wide range of sales and marketing-related topics, and they can help you identify areas for improvement in your existing sales approach and to develop effective strategies to achieve real sales growth.

Working with our consultants, we help our clients improve their teams sales skills, productivity and sales performance resulting in real business growth. Our sales consultants will help you to identify and address bottlenecks in the sales process, and they can provide guidance on best practices and strategies to increase new sales enquiries and sales.

Klozers sales consulting services are flexible and scalable, which makes them suitable for companies of all sizes and in a variety of industries. Companies can work with us on a short-term or long-term basis, depending on their needs, and they can scale their support up or down as needed.
We serve as trusted advisors to CEOs and Sales Directors by supporting not just their sales team, but their sales operation as a whole.
Every business is unique so we would love to talk to you and learn more about your business. Contact us now for a free and no obligation sales consultation.
2. Common Consulting Projects - Sales Process
Often B2B sales can seem complicated and we do our best wherever possible to simplify everything.  Sales is a process and should have logical and measurable start and ending points.  Without a process it's simply not possible to achieve consistency in either results or performance and more importantly it's not scalable.  
Our sales consultancy helps you:
Identifying areas for improvement: we work with clients to identify bottlenecks or other issues in the sales processes that are preventing them from achieving their goals. They can then develop strategies to address those issues and improve the sales process.

Providing training and development: we can provide training and development to help your sales force improve their skills and achieve better results. This might include training on sales techniques, product knowledge, or customer service skills.

Developing sales strategies: we work at CEO and Sales Director level to develop sales strategies that align with their business objectives. This might include identifying target markets, developing sales processes and systems, and creating marketing and sales materials.

Analyzing data and market trends: we use data analysis from your CRM and market research to identify trends and patterns that can inform your sales strategy. We can then use this information to develop changes to the sales approach whilst if necessary retaining the original sales strategy.

Providing group pipeline coaching and individual one to one coaching support: we work with sales people to develop 90 day sales plans for their teams and then provide coaching to help the sales teams deliver on the plans.
As part of our endeavours to simplify sales we break each area of the sales process down into the four high value areas of sales.  Which are Finding, Klosing and Growing – we've found if you focus all your energies on just finding more people to sell to, then improving your klosing to get more deals over the line and then ensure that you both retain and grow those accounts, its impossible not to sell more.  
The fourth and last high value are of sales is Developing which is the constant development of skills, confidence and knowledge of the sales people themselves.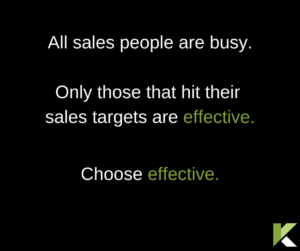 3. Common Consulting Projects - Sales Training

Klozers started as a sales training business back in 2014 and sales training and coaching is at the heart of our business.  We've successfully delivered sales training across multiple countries and verticals, from frontline SDRs to boardroom sales leaders.
Developing bespoke training programs: our clients have typically tried generic sales training courses and come to us looking for something different – results.  We work with clients to develop customized sales training programs that meet the specific needs of their people and their organization. These programs might include training on lead generation, sales techniques, customer service, or other relevant topics.

Providing training workshops: our sales consultants can conduct sales training workshops for salespeople, either in person or online. These sessions might include lectures, group discussions, and hands-on exercises to help salespeople learn and practice new skills.

Providing ongoing coaching and support: we have team of experienced sales coaches who provide ongoing coaching and support to salespeople to help them apply their new sales skills in the workplace and to overcome any situational challenges as they arise. This might include providing feedback and guidance on sales techniques, as well as encouragement and support.

Evaluating the effectiveness of training: our consultants can also help clients to evaluate the effectiveness of your in house sales training programs, by collecting data and analyzing the results. This can help clients to identify areas for improvement within their sales force and to refine their training programs as needed.

Sales Team activity: training and improvement to sales processes are important, however, many sales teams struggle to execute the right types and level of sales activity. Every sales team needs to be held accountable to delivering the sales activity required.  
Our sales training can be delivered either in-person at a location of your choosing, remotely online or a hybrid of the two. All our training is aligned with the companies overall sales strategy and goals which ensures you will receive the outcomes, results and business growth you are looking for.
4. Common Consulting Projects - Sales & Marketing Alignment
Aligning sales and marketing within a business is important because it helps to ensure that both teams are working towards the same overall goals and objectives. Here are some examples of the type of projects we work on to align sales and marketing within a business:
Establish clear and common growth goals and objectives: The first step in aligning sales and marketing is to establish clear and common growth goals and objectives for both teams. Examples include setting overall OKR based goals for the business, such as increasing sales revenue or expanding into new markets.

Define roles and responsibilities: It is important for both sales and marketing teams to understand their roles and responsibilities within the entire sales process. This may involve defining the specific tasks and responsibilities of each team, as well as how they will work together to achieve the overall goals of the business.

Communicate and collaborate: To align sales and marketing effectively, it is important for both teams to communicate and collaborate regularly. To this end we are great advocates of "Growth Pods" whereby we remove traditional siloed sales and marketing departments and place professionals from sales and marketing into smaller pods where they work together with common goals.

Use data and analytics: By using data and analytics, both the sales team and the marketing team can better understand the needs and preferences of their customers, and make more informed decisions about how to reach and engage them.

Use shared metrics: Using shared metrics can help to align sales and marketing efforts, as both teams can track progress towards common goals and objectives. This may include metrics such as customer acquisition cost, customer lifetime value, or lead conversion rate.
Aligning sales and marketing is a subject close to our hearts as we have gone through the process as a business ourselves.  We can show you exactly how we did it, including the results, warts and all.
5. Klozers B2B Sales Consultancy - Join us
We're growing fast and keen to hear from experienced sales consultants who would like to join our team.  Our clients quite rightly demand the best and here are some of the vast array of skills that you will need:
Sales and Marketing:  sales and marketing are inextricably linked in modern selling so you will need to demonstrate expertise in all aspects of B2B sales and marketing.  

Communication skills: you will need to be a natural communicator and be able to effectively communicate with clients, from CEO & Sales Director level, through to the front line sales team. You should be able to clearly and concisely convey information and ideas, and be able to adapt your communication style to suit different personas.

Analytical skills: we will help you analyse the data in your CRM system to help your clients identify trends and patterns, from which you will need to develop solutions for sales growth.

Problem-solving skills: we love working with our clients on complex problems and helping them find the best solution for their circumstances.  We don't believe in a one size fits all solution so you'll need to be creative in terms of your problem solving.

Consultative skills: our genesis as a business was delivering consultative selling skills which is still our best selling course.  Our sales consultants are our brand champions so you will need to be able to work with clients in a consultative manner, and build strong relationships based on trust and mutual respect.

Business acumen: sales never operates in isolation of the wider business and our sales consultants need a strong understanding of business principles and how to apply them to different sales scenarios. You should be able to analyze market trends and customer needs, and to develop sales strategies that align with clients' business objectives.
Klozers are a full life sales and marketing  consultancy meaning we cover everything from the initial value proposition development through to closing more sales deals.  What this means to you is that we work in a fast paced environment and no two days are the same.  It's great fun and hugely rewarding. 
We are currently recruiting consultants throughout Europe and North America so please feel free to call us for more information. 
"A fantastic learning experience"