1. What is group sales training?
Group sales training is the process of delivering sales training to groups and sales teams rather than individual salespeople.

Group sales training is usually delivered at events, sales kickoffs and conferences and may be tied into new campaigns, product launches or the start of a new financial year.

In addition, it's not uncommon for organisations to use group sales training as part of a wider sales enablement or sales readiness program.


2. How do I train my sales team?
The best way to train your sales team is to first identify the skills they need developing and then tie these into everyday work tasks.

In order to get the most from any training programs you should always include sales managers, team leaders and in SMEs and Mid Market accounts even the CEO should be included.

This sends a message to the group that the training program is important and has Exec Level sponsorship.

Then, once the salespeople have been trained they can immediately start using the new skills they have learned.

At this stage it's unlikely the new skills will work perfectly every time so it's important they have further access to coaching to reinforce the training and support them.

Studies show that people learn via doing so any training must include an opportunity for the salespeople to use the new skills. We call this work based learning.
3. What training does a Sales person need?
Each sales person requires training specific to the products and services they are selling. In addition they will require training on sales skills to help them become more proficient at selling.

The higher the cost of the product or service the more training they will need in order to be successful.

We use a simple Training Needs Analysis template which includes the most common skills we are asked by comanies to deliver training on.

You should customise the template below to help identify the training needs of your own organisation before commencing any group sales training.
4. The goals of Group Sales Training?
From our experience there are typically three overarching goals that group sales training need to address. These goals differ in every organisation and are tied to the strategic business drivers of three core functions – the overall business strategy owned by the CEO and board of Directors, the sales strategy owned by the VP of Sales and the people strategy which is owned the HR Director.
Here's an example of goals a CEO may have:
Here's an example of goals a VP of Sales may have:
Here's an example of goals a HR Director may have: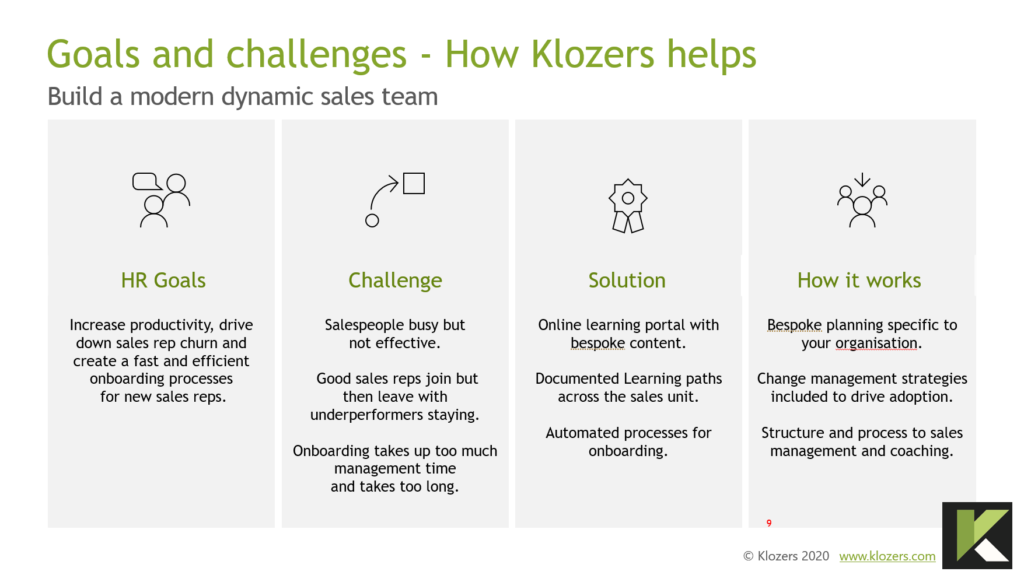 Group sales training requires a significant level of investment both in terms of time and money.

Gaining Exec sponsorship for the project is vital and in many cases without this, the project is likely to either not get off the ground, or be closed down before it has a chance to prove itself.
5. Most common Group Sales Training activities?
The most common group sales training activities are workshop led tasks where salespeople are invited to contribute new ideas to solve particular challenges.

These challenges could be internal where systems and processes need improving or external where they need to enter new markets.

Having the salespeople contribute makes them feel more valued and helps gain buy in to any potential solution that comes from the sessions.

A common example of this type of workshop would be to run a session on how to shorten the sales cycle.

When properly facilitated this is a great topic for salespeople to brainstorm and come up with new ideas.

Another great workshop topic is Future Proofing sales. This session focusses on what customer insights the salespeople have about how the market may be changing.

As the people closest to the organisations customers salespeople are best placed to do this.

There are many group sales training activities available, however, these should be selected on their relevance and their potential impact.

Before deciding which of these activities is right for your sales team you should conduct a training needs analysis.

This will identify the areas where the sales reps need the most support.

By dividing your sales professionals into rotating teams throughout the event, you'll have built work bonds and friendships across multiple departments which in turn builds employee morale.

From our research we have listed below the most common skills companies are looking for to support their salespeople.
Most common sales skills for Group Sales Training
| | |
| --- | --- |
| Handling stalls & objections | Building relationships |
| Controlling the sales conversation | Value creation |
| Advanced questioning skills | Cross Selling |
| Referrals & testimonials | Dealing with difficult customers |
| Online Sales Presentation skills | Negotiation skills |
| Sales Navigator | Whiteboard selling |
Most Common Sales Skills for Group Sales Training
Most common sales topics for group sales training
How to sell to big companiesSales Leadership trainingConsultative Sales TrainingSales coaching for managersSaas sales trainingEnterprise selling skillsKey account managementSales Management trainingTelesales trainingCommercial awareness trainingMost Common Sales Topics for Group Sales Training
6. Can I mix ability levels in group sales training
Group sales training may be run as a one off event however more and more companies are using group sales training as part of a wider development plan.

These wider development plans can range from single targeted interventions for salespeople who need support or salespeople who are transitioning from one role to another.

Ultimately group sales training should be increasing performance across the whole team.

This may require different learning content and strategies based on the needs of the individuals and the organisation.

For example, senior more experienced sales reps will require different content to new sales graduates. There may, however, be areas of common needs between the two groups and if this is the case, you should definitely mixed the groups

Best practice in sales would advocate that organisations create learning paths which are structured learning programmes that include a number of courses or topics.

The goal of learning paths is to develop expertise and knowledge that allow people to move through the different levels of the organisation in order to develop future leaders.

By integrating work based learning you can deliver impactful training, teaching new skills to members without impacting your business as usual.

This helps both the salespeople and the company move forward at the same time.

Group training is also a great way to discover individual talent within your sales team that typically might be hidden beneath louder voices.
7. How do learning paths apply to sales training?
Imagine a sales person wants to move into management. In most cases they will have neither the skills nor the practical experience to do so.

A learning path would analyse the skills required to be a sales manager and perform a GAP analysis between where the sales rep is now and where he needs to be in order to be a sales manager.

Once the gap analysis is done you can create a series of training courses such as data analysis, people management and hiring, that will provide a path the sales rep can follow in order to progress within the company.

Whilst the learning path will not take a graduate from new entrant to CEO, the path should demonstrate progression through a number of roles.

Learning paths should dictate the internal qualifications that people need in order to be considered for roles.

This helps drive a culture of learning and development across the organisation.
8. Technology used to deliver sales training
In terms of group sales training, technology has two main purposes. Firstly, group sales training should use technology to enable the delivery of the training. There are many different technology options for delivering training, however, it's worth asking the following questions:

a) does your existing technology add to the learning experience or takeaway? More and more group sales training is being delivered remotely and the technology required should be appropriate.
b) does your existing technology track the progress, record and provide management reporting on the learning? Learners should complete polls, assessments, reflective learning statements and work based projects that embed the learning.
We use the Microsoft 365 technology platform as a base for delivering sales training. This has a number of advantages including familiarity for users, reliability, cloud based and mobile friendly.

The Microsoft components we use are Stream, Planner, OneNote, Forms, Whiteboard and Teams. These are configured together on a SharePoint platform to create our own Learning Management system.
Your own company learning portal for training
You can consolidate all your learning resources into a single hub built inside your own Microsoft Teams environment, where your team already spend most of their day.

We provide bespoke Learning Management Systems that include our sales training courses but also have the capability to add your own learning content.
9. Measuring the impact of sales training
Whilst training is designed to improve sales performance it's important to measuring the impact on the performance of the team. This need not be difficult, however, unless this is discussed in advance in all too many cases the impact may either never happen, or happen, but be neither recorded nor appreciated.
We suggest measuring the impact of training into two main areas as follows:
a) Tangible – this includes things like the number of proposals delivered or sales generated. These are what we call lag indicators, what we mean by this is they happen as a result of something else happening earlier in the sales process.
A better way to measure impact is to measure these lead indicators, and they include anything at the very start of your sales process. For a SaaS business this could be the number of outbound call from SDR's or if you are running an inbound sales strategy it could be the number of online events your SME's (subject experts) are delivering.
b) Intangible – the so called "soft" side of training is arguably of equal or greater importance than the hard tangibles like new purchase orders.
That's because invariably your group training will not have a tangible impact without the intangible benefits. Intangible benefits include.
Confidence
Sense of achievement
Motivation
Less stress
Increased commitment
Greater resilience
If you're in any doubt of the value of each of these then there is a great article here on a study undertaken from the University of Chicago.
10. How to deliver engaging content
When choosing content there is a balance to be struck between what the participants want and what the participants need. Here's a real life example:

The HR Director does a training survey to let salespeople feel they have some say in the forthcoming training content.

The most requested training was for Presentation Skills, yet none of the salespeople surveyed were responsible for delivering presentations.

In this case Presentation skills training was an easy, non-threatening, nice to have course that filled a slot in the training calendar.

All training content must be relevant and something that can be applied in the field within 14 days of learning.

Without the chance to apply the new skills in real life the skills will be forgotten within 30 days and the investment in training is lost.

In order for particpants to learn you must first create a positive learning environment.

This may require taking the reps away from their workplace to an external venue, such as a hotel, or allowing reps to conference in from home.

Training that takes place in an office environment is more than likely to be subject to interuptions and distractions.

Engaging content needs to be:

a) relevant and add value to the sales reps day to day activities.
b) mentally challenging for them.

11. Group sales training on prospecting
Workshops are an excellent way of delivering training on sales prospecting. This is however, only the case if the training includes live prospecting.

Rather than having theory based training the most powerful training includes calls to live prospects made by the trainer, the sales coach, the sales leadership team.

Whilst this may seem daunting, if the session is properly facilitated it is a tremendous team building excercise and invaribly delivers some good quality sales leads for the team to follow up on after the training.

Many salespeople are uncomfortable doing this in front of their peers but this only proves they have an underlying lack of self-confidence.

Part of this problem can be a failure on behalf of the trainer to create a "safe place" for their salespeople to fail.

More than any other training topic live sales prospecting requires the trainer to create a positive and supportive learning environment.

Group sales training when based on work based learning creates a culture of mutual respect and support.

This is because every person has to rely on other people to completely finish a project/deal. There is a sense of dependence and trust that team members build when they're working together in specialized roles.

NB: If your target audience is under any form of Lockdown, live sales prospecting will have limited results.
12. Team training supports motivation
Having fellow members of your team, need and want you to succeed makes professional selling easier.

Where possible you should encourage team members to begin acting as a mutual support system. That way, everyone is driving towards your companys sales goals.

More senior Team members in sales can serve as mentors and guides to the less experienced salespeople.

With this kind of mentoring, you'll find that your younger, less experienced sales professionals will gradually feel more confident and develop their skills.

Group accountability truly makes a difference here. Having accountability towards a boss and having accountability towards a teammate or mentor are two very different things and two different feelings of obligation.

By encouraging them to act as one another's conscience you won't have to remind people about deadlines and ensure that everything is done on time if team members are reminding each other.

Overall, we find that your sales team will run much more smoothly and the extra motivation provided will help you find more sales.

Our work based learning facilitates learning by working in teams. This allows your sales reps to focus on the tasks that they're good at whilst supporting the wider group.

They can use their skills to improve systems and processes and get the work done faster and better together.

Time is a precious commodity in sales and you may struggle to fit traditional training in to your diary.
13. Use team training to build morale
It's natural for team members to start getting closer to one another during any form of training.

As they work together throughout the day, they start to build trust and this is important if you need to breakdown silos between different sales departments.

However, having something to tie your employees together is extremely important and this is where we believe in using live campaigns to embed the new skills and strategies learned during the training.

An added benefit is working together, as a team helps team members to respect one another and listening to each other's ideas and other contributions.

As Sales Reps are training in order to learn even more about sales, they'll push one another to do the best they can, rather than not caring about each other's successes.

Often, sales professionals are pitted against one another and ranked by how 'successful' they are at pulling in sales.

Placing the sales reps in groups takes the pressure off individuals and helps them learn from working with their peers.

That said you should be promoting friendly competition within the office. You'll notice that this kind of competition and "pressure" is much more conducive to developing a strong sales culture and you'll see great results as friends push one another to beat each other.
14. Diarising your sales training
Often when group sales training is required it's impossible to have everyone attending the sales training at the same time.

Most organisations can arrange for outside sales reps to attend training, however, many struggle if they have inside sales teams who need to cover phone, chat and email enquiries.

We've found the easiest way around this is to make two dates available and split the groups into half.

Furthermore, in the event that people may be on holiday or off sick we also record our training and makes this available for everyone after each session.

Sign up today to get started!

Iain Swanston has spent over 30 years in B2B sales selling, training and leading teams both domestically and internationally.  In addition he serves as an Associate at Strathclyde University Business School where he has delivered the sales content for the Masters in Entrepreneurship since 2015.